Our consultancy services seamlessly integrate Management and IT consulting, to develop innovative solutions with high added value which meet our clients' needs.
Less than 10% of the consulting services provided by traditional firms do not require the revision or implementation of any Technological component.
Standing on an unrivalled position, deeply rooted in our robust methodologies aimed at business endeavour, highly trained professionals, and unlimited ability to incorporate technology, we help our customers, and even predict their needs.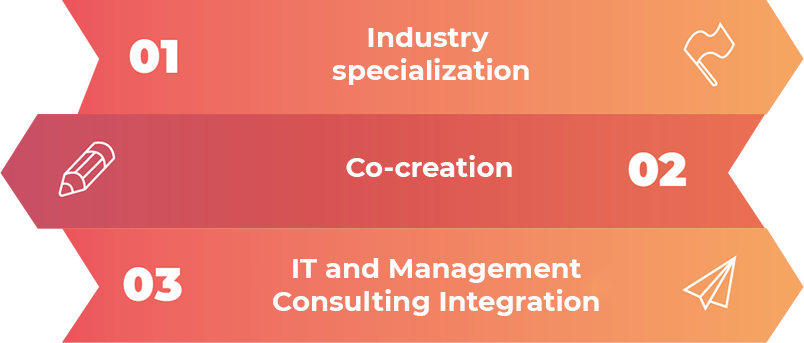 Digital Transformation
At first glance we might think that this is an issue that involves only the IT area, but it does not. Recent changes in digital channels have had major impacts, and sometimes disruptive consequences for all industries.
So much so, that some organizations had but to make dramatic changes in their business models. ("Digital Clients", "Digital Providers", "Digital Partners", etc.).
Therefore, emerging technologies "have to do their job" in the pursuit of higher business profits.
Digital transformation is advisable when:
There are initiatives of on-line sales development
Customer experience needs improvement
Competitors or the economic sector has widely introduced digitalization
Your customers or potential customers belong to the "Y" generation
Marketing strategy needs improvement
You need to exploit your information from different angles, beyond the traditional reports offered by your transactional systems
Your company needs to reduce costs, increase profits, improve the quality of products or services, and raise control levels.
Your company needs to introduce geographical flexibility
New and more collaborative business models are been redesigned
There are problems when coping with risks associated to recently implemented
Our services include:
Business and IT Strategic Planning
Channels' Integration
Customer Experience Models
Business models considering emerging technologies and social networks
Technological Architecture
Cloud Solutions' Planning and Integration
Mobile Solutions' design and implementation, based on Social Networks and the Web
IT Governance
Compliance
Cybersecurity
Security Strategy
Internet of Thing Business
Digital Claim Management
Cost Reduction
Most companies want to reduce costs due to the regional situation, reduced profitability, and more demanding compliance issues, among others. This specific situation often repeats over time, at intermittent intervals of time: cost slashing periods, followed by others when defined measures cannot be supported. Eventually, it is a cycle which can seriously interfere with a company's growth.
Costs may either "add" or "destroy" value, therefore, understanding cost structure is pivotal to make a fast, radical, and sustainable cost reduction in business areas, and the IT environment.
Although reducing IT costs may look potentially interesting, it needs a careful systemic approach, because IT functions directly affect a business produce quality.
Cost Reduction is advisable when:
Profits have decreased
Competition has lower costs
Costs keep growing despite the efforts made to reduce them
A process, an area, or a business, has poor profitability
Profit or costs of comparable processes or areas are quite different
Poor Cost Management
IT cost management is not clear, and its costs are too high
The IT function cost structure is unknown
Cost structure and business strategy are not aligned
Customers argue for the cost of services and/or products
Regulatory changes made an impact on cost structure
Our services include:
Cost Systems (business and/or IT)
Financial Function
Corporate architecture and applications
Project, portfolio and/or benefit management
Information Management
IT Sourcing & Outsourcing
IT Governance
IT Asset Management
IT Service Management
Value Generation
Organizations which take the challenge of streamlining performance, improve profitability, resources, control, and transparency.
The whole of the company must be involved: strategy, processes, organizational structure, technological infrastructure, personnel, and some specific corporate cultural areas, as well. We design and implement technological solutions to cater for any business models. Our methodologies and work approaches are based on "good practices" and follow their corresponding standards. We design innovative solutions, and support our clients until their aims are achieved and they are fully satisfied.
Value Generation improvement is advisable when:
The company needs to grow and increase earnings
The sector's " rules of the game" have changed either by "new comers" or regulations
Competition is tougher
Regaining/widening market share
The organization does not Implement a defined strategy
Results do not meet expectations after merger, or after one of its business unit has been created/eliminated
Operational risks are hampering growth
There is no certainty whether the IT investment is leveraging the business in the right extent
A company does not know the value IT generates for a business
IT's alignment with the business is not evaluated
Innovation is needed, but it is not clear how or how much
 
Our services include:
Integrated IT & Business Strategic Planning
Corporate governance improvement
Processes' redesign and improvement
Operating model redesign - Corporate Performance Improvement
Customer Segmentation
Monitoring Systems and Balance Scorecards
Service Level Agreement design (SLA)
Data Model improvement for operations and decision-making.
Portfolio and Project management – Profit management
Corporate IT Architecture Management
Data quality assessment
Procurement & sourcing
Supply chain management
IT Governance - Cost and IT value management
Business family.
Customer Experience
Nowadays, it takes a lot of time and effort to have satisfied customers. Organizations should ensure that their mid and long-term growth include chatbots, electronic payments, artificial intelligence, Internet of Things (IOT) and Big Data.
The return gained from satisfied and loyal customers, who are eager to share their good experiences, has an extremely positive impact on competitiveness and profitability. Therefore, it is of essence to meet and know our customers. Innovation, quality, convenience, transparency, trust, privacy, personalized and "human" bonds are some of the characteristics that customers value today.
Customer Experience is advisable when:
A company's social network interaction must be more positive

Sales' goals and service/products' strategy results have not been achieved

A company has recently been through a merger or acquisition

An organization's customer portfolio, or a segment of it, has low profitability

Customer data management is not centralized

There is poor knowledge of your customers' life cycle

The products and services offered in the economic sector have dramatically changed

There are no clear contact points between an organization and its customers

Regulations applicable to the organization-client relationship have changed

A company, or its competitors are starting to use mobile channels with its customers

A company needs to catch up with digital transformation
Our services include: 
Sales platform transformation
Sales force strategy, processes, and operation redesign
Customer oriented Business Model redesign
Mobile device-based customer strategy
Loyalty Program Optimization
Streamlining contact centers
Customer analytics
Digital Marketing, customer segmentation
Maximizing Revenue per Client
Clients' confidential information assurance
Governance, Risk and Compliance (GRC)
Although GRC is not new to organizations, it has become crucial due to several factors, such as increasing operational complexity, more competitive sectors, ethical and financial scandals, increased regulations, and modern technologies. A company must have an integral approach to GRC's implementation.
Although organizations have usually resorted to GRC just to mitigate problems, today's leading organizations recognize that it is a particularly valuable tool to help them manage day-to-day businesses, improve their capabilities, and future results; for instance, reduce costs, improve profitability, and predict events.
GRC improvement is advisable when:
A company does not comply with regulations
GRC costs increase, but its benefits are not noticeable
There is no valuable information available for senior management support decision-making
Managers cannot control the business properly
Operational risk management and compliance are not aligned
Unbalance between compliance and satisfactory performance
Shareholders' expectations and business goals are not aligned
Control costs are high
A company does not have GRC, while competition is successfully implementing it
Our services include: 
GRC models' design and implementation
Enterprise risk management (ERM) models' design and implementation
GRC and ERM support tools
Streamlining business and IT's automatic and manual controls
Internal Audit Support Services
Corporate Governance
IT Governance
Compliance with IT security strategy
Information Privacy
CyberSecurity
Even if organizations recognize that their technological infrastructure is crucial and sometimes indispensable to achieving their business objectives, most of them are not able to ensure its security. This may be due to poor ability to make decisions that involve their IT environment, or lack of awareness. Additionally, the rapid incorporation of emerging technologies often widens the gap between existing and necessary control structures.
Moreover, while risks that can jeopardize information security rapidly raise and daily transform their nature, corporate security strategies and "defensive" measures are usually runners-up. In short, organizations are ready to neutralize known threats that have already occurred, while attackers are planning how to take advantage of their future vulnerabilities.
CyberSecurity improvement is advisable when:
There have been attacks on technological infrastructure and/or its data
Technological changes have generated gaps in an organization's security and control
Audits have reported security or control weaknesses
Excessive costs result from poor security and control
It is necessary to comply with specific regulations concerning security and IT control (ISO 27000 family Rules, Cobit, SOC1, SOC2, SOC3, data privacy law, etc.).
Security and IT Control, need to be improved, and emerging technologies incorporated
A company is unable to meet the security and the IT control demands made by their clients, business or regulating partners
Our services include

:
IT environment security and control assessment

Ethical hacks

Implementation of terms of reference:Cobit 5; Cobit19; ISO 27000, etc.

Implementation of Information Security Management Systems (ISMS)

Corporate security strategy, including technologies such as: cloud computing, mobility, Big Data, and social media

Information Security Policies review/design

Privacy of information – compliance

IT and security governance structure definition

CyberSecurity Strategies

IT Risk Analysis

Business continuity solutions - Business Continuity Management Systems

IT Security Assurance  
Project and Portfolio Management
A company or organization conduct changes and improvements by means of projects. However, companies are not always satisfied with their own project management ability, in terms of project election and priorities. Consequently, it is impossible to formally conduct profit management, not to mention achieving the aim desired.
Counting on a robust project portfolio management, to ensure optimal allocation of an organization's resources, leads to the achievement of a company's strategic objectives. "Management" here includes identifying, selecting, prioritizing, authorizing, managing and controlling a portfolio's projects and programs, with the certainty that an organization is doing "the right job, in the right way".
Project and Portfolio Management improvement is advisable when:
Resources are not fully exploited in a Projects' Portfolio
Projects yield low quality products
Few projects have been successful
Projects are not implemented in the best chronological order to maximize the expected benefits
There is not a collaborative environment throughout the organization for project development, such as pre-defined common language and roles
There is no follow-up of project's benefits to evaluate expected vs. attained goals
The extent of a strategy's implementation is not assessed
There is no early identification of potential problems and risks
Overall, an organization is not satisfied with their own project management skills
Our services include

:
Project and portfolio management improvement

Profit management improvement

Case studies: defining and using methodologies for recording the necessary elements, and implementation support.

Project Management Office (PMO) Design and implementation

PMO or co-execution outsourcing services

Project assurance and/or audit

Project, profit, and portfolio management training

Alignment of portfolios and projects' risk management with operational corporate risk management

Projects and portfolios' risk analysis
Interrelated topics:
Strategic planning (Business/IT)
Value Generation
Cost Reduction
Main Industries we work for:
Copyright 2019 Quanam.

Todos los Derechos Reservados.

Todos os Direitos Reservados.

All Rights Reserved.